About Us
DELIVERING VALUE
Meet Our Management Staff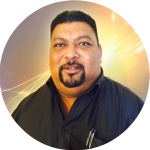 Name: Saia Vea
Title: General Manager/Quality Control Manager
Contact Number: 780 514-0550 (more..)
Information: Saia Vea was born in 1970 on a little island in the south pacific that is known as Tonga, "The Friendly Island." Saia came to Canada, and worked during the day and learned as much as he could from experienced people. He also had to learn how to speak English. Saia's philosophy is "we are one big family, and each of us working together we are much stronger, as a team, than working alone." Saia has 15 years in maintenance, pipeline, and facility construction experience. Saia's specialty is complete projects, from the drawing stage through the completion of the facility.
---
Name: Jerry Pastushuk
Title: Ground Disturbance Supervisor/Equipment Operator
Contact Number: 780 514-9628 (more..)
Information: Jerry Pastushuk was born and raised in Drayton Valley. Jerry attended school here and then worked in various different occupations in the Drayton Valley area. Jerry has been working in the oilfield for 20 years now, and brings a wealth of knowledge in equipment operating and ground disturbance activities.
"DV Oilfield Services is committed to safely and effectively serving our customers needs while maintaining the highest standards of service, quality work and customer satisfaction…"